Brake Upgrades
Performance isn't just about speed… it's about controlling speed.
While acceleration and pulling lateral Gs are exhilarating, only excellent brakes give us the confidence and ability to safely enjoy the upper limits of performance. The ability to slow or stop is of the utmost importance!
Upgrading your brakes will allow you to see greater performance from your Car. With upgraded brakes, you can carry more speed into corners, braking later from higher speeds – confident in the knowledge that your entry speed will not be too high.
Another characteristic of excellent brakes are their ability to resist fade. Brake after brake application, large, well ventilated discs aid in the dissipation of the enemy-heat. High quality brake lines and hardware ensure perfect operation under the most exacting conditions.
These high performance-braking systems were engineered to work in a broad range of applications, from normal daily driving to the harshest of conditions encountered only in professional racing. One can never have too much stopping power!
Uprated brake pad set
Designed and tested for predominantly performance-oriented street use, Sport brake pads represent the first upgrade level for any braking system. These products have been created for drivers with sporty ambitions and, more generally, for anyone who wants to maximise the potential of their car.
These pads boast levels of manufacturing quality and advanced materials. They offer outstanding performance even without warming up and at low speeds, thanks to a specific friction material that ensures constant friction at all temperature ranges. In addition to enhanced performance, this material also ensures outstanding quietness and reduced disc and pad wear.
These are therefore the ideal brake pads for drivers who demand the best from their brakes, even during everyday use, and are even more effective if used in conjunction with the appropriate performance discs.
We also offer a range of brake pads for race use.
Brembo sport braking kit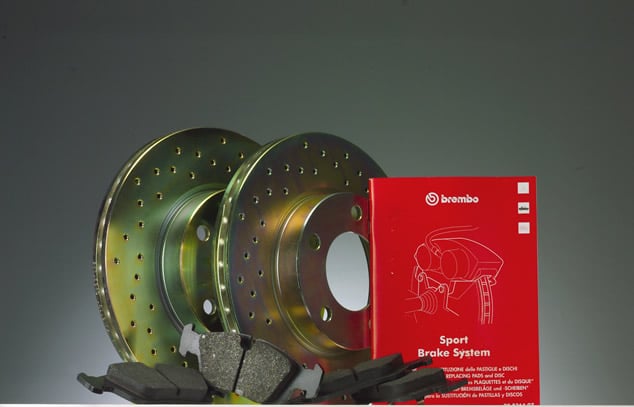 This braking kit consisting of brake discs, available drilled or slotted, please choose above. The kit also includes a complete set of high performance brake pads.
The Brembo Sport discs are premium OEM replacement units that meet or exceed all vehicle manufacturers specifications and tolerances. They are fully compatible with stock calipers wheels and other chassis components, easily mounting onto the vehicle.
The brake discs are built in high carbon cast iron and they are available either drilled or slotted. The brake discs are then planted for corrosion resistance and for a bold, aggressive appearance.
Brembo GT big brake kit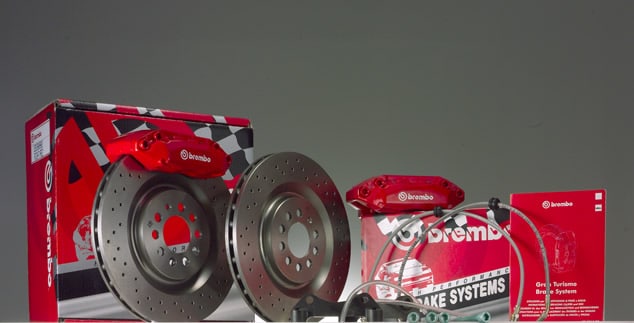 Motorsport quality braking from the premier worldwide braking company.
Brembo Gran Turismo Braking Systems provide amazing stopping power during day-to-day use, as well as the ultra high performance you would expect from Brembo products when used for track days.
All Brembo brake systems are designed to fit perfectly onto the vehicle's original setup, and are fully compatible with the vehicle's OE parts and anti-lock braking system (ABS).
In most applications the High Performance Brembo Gran Turismo Brake System have been developed specifically to replace the vehicle's front brakes (due to the higher braking requirements encountered there), rear brake systems are also offered for selected applications.
A complete brake upgrade kit includes
Pads
Discs
Fitting Kit (where required)
Brembo uprated performance calipers
Brembo kits come with either Black, Red or Silver brake calipers and unless otherwise specified, all systems are available with either drilled or slotted discs. Please choose your preferred options above.