DSG Gearbox Servicing
The DSG or dual-clutch gearbox is a very sophisticated system which has two clutches with electronically controlled gear selection.
DSG is a new 'two-in-one' concept. Available in 6-speed and 7-speed versions, it's like a conventional automatic transmission as well as a manual gearbox. Twin electronically controlled shafts manage gear selection, always anticipating your next shift or you can change gear manually via the paddles on the steering wheel or via the selector. When you turn the engine on and select Drive mode, one shaft selects first gear while the second shaft puts the next gear on 'standby'. As the gearbox changes to second, the second shaft is engaged and the original shaft reaches third. As you shift upwards the sequence continues in a series of seamless moves. Because power is simply switched from one shaft to another, not only are gearshifts silky smooth, but they are also very fast: each change takes less than four-hundredths of a second
There gearboxes require servicing at set periods to retain good reliability.
Ricci Concept recommends that the oil and filter is changed every 40,000 miles or 4 years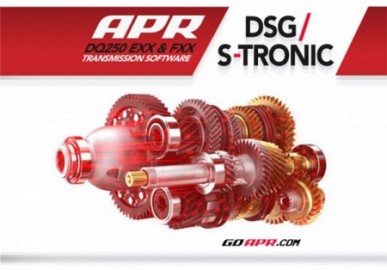 DSG / S-tronic gearboxes
As APR dealers, we are now able to offer performance upgrades for DSG / S-tronic gearboxes
Ricci Concept and APR are pleased to present the ultimate transmission control unit (TCU) upgrade for the DQ250 Exx & Fxx DSG and S tronic transmissions! APR's TCU upgrade is available in engine and power level specific variations and is conveniently flashed to the vehicle's factory TCU through the OBD-II port. APR's patented Direct Port Programming Suite allows the end user to customize the TCU upgrade to their individual needs.
APR's TCU upgrade enhances the driving experience by incorporating many of the same features typically reserved for high-end Audi Quattro GmbH RS models. Under blistering, wide-open throttle acceleration, the transmission shifts even more quickly than before with a higher rev limit. However, during normal, day-to-day driving, the TCU Upgrade delivers a smooth, yet responsive and refined driving experience